TAGUS RIVER @ YOUR FEET! YOUR LUXURY APARTMENT
Charming rooftop apartment (136 sqm | 1463.89 sqf) with a unique river view located right in the heart of Chiado and downtown Lisbon.

Walking distance from Bairro Alto and Cais do Sodré
A Lisbon Luxury Apartment living among the main sights of the city.
The CHIADO RIVER VIEW DELUXE APARTMENT benefits from a unique view, located at a beautiful Pombaline architecture building and the interior design creates a modern, stylish space where you can rest and enjoy a relaxing atmosphere.
The Apartment
The apartment is very well furnished and has all the amenities needed for a perfect stay. It consists of a large living room with a stunning view, dining table, a modern open kitchen, a double suite with view to the Lisbon castle, air conditioning and private bathroom, another double room with air conditioning and side river view, a third double room with frontal view to the river, a main bathroom with shower. All the rooms have wardrobes.
It can sleep a total of 6 people.
Living Room
The spacious living room has a comfortable sofa and chairs, a dining table, TV with wi-fi and 156 channels, music player with bluetooth and high speed wi-fi. It benefits of 6 windows with such a breath-taking river view and enjoys a typical neighbourhood environment in the city of Lisbon.
Kitchen
The kitchen opens to the living room and comes fully equipped – refrigerator, microwave, oven and you can prepare your meals using all small appliances, including electric kettle, blender, toaster and coffee machine, as well as crockery and cutlery. It has laundry and dryer machines and a dishwasher. There is also an iron and ironing board.
Other Services
Towels, hairdryers and toiletries are available courtesy of the owner. Bed linens also available. Free high-speed fiber wi-fi, cable tv, laundry and dryer machines and a dishwasher available, central air conditioning in whole apartment.
A cleaning service in the morning is also included (weekdays).
Guides and maps are available for your stay.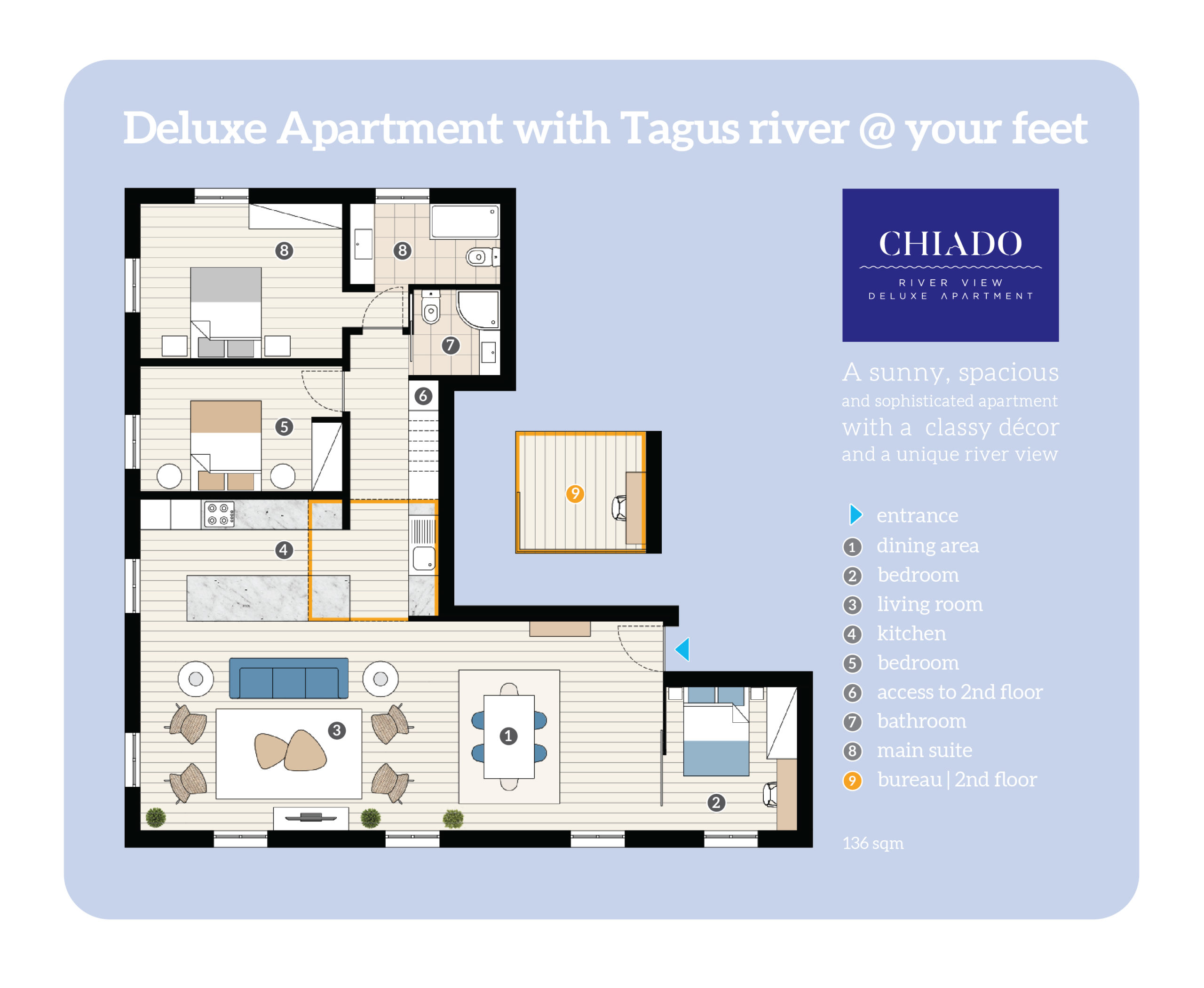 Notice
Please note that there is a lift which we take at the ground floor to go to 5th floor. CHIADO RIVER VIEW DELUXE APARTMENT is on the 6th floor.
There are 12 large stairs with an handrail to go up. It is not hard but not appropriated to handicapped people or wheelchairs.
There is 1 travel bed for a small child in the apartment.
Please let us know in advance and at least 2 days prior to your arrival, your check in hours at the apartment.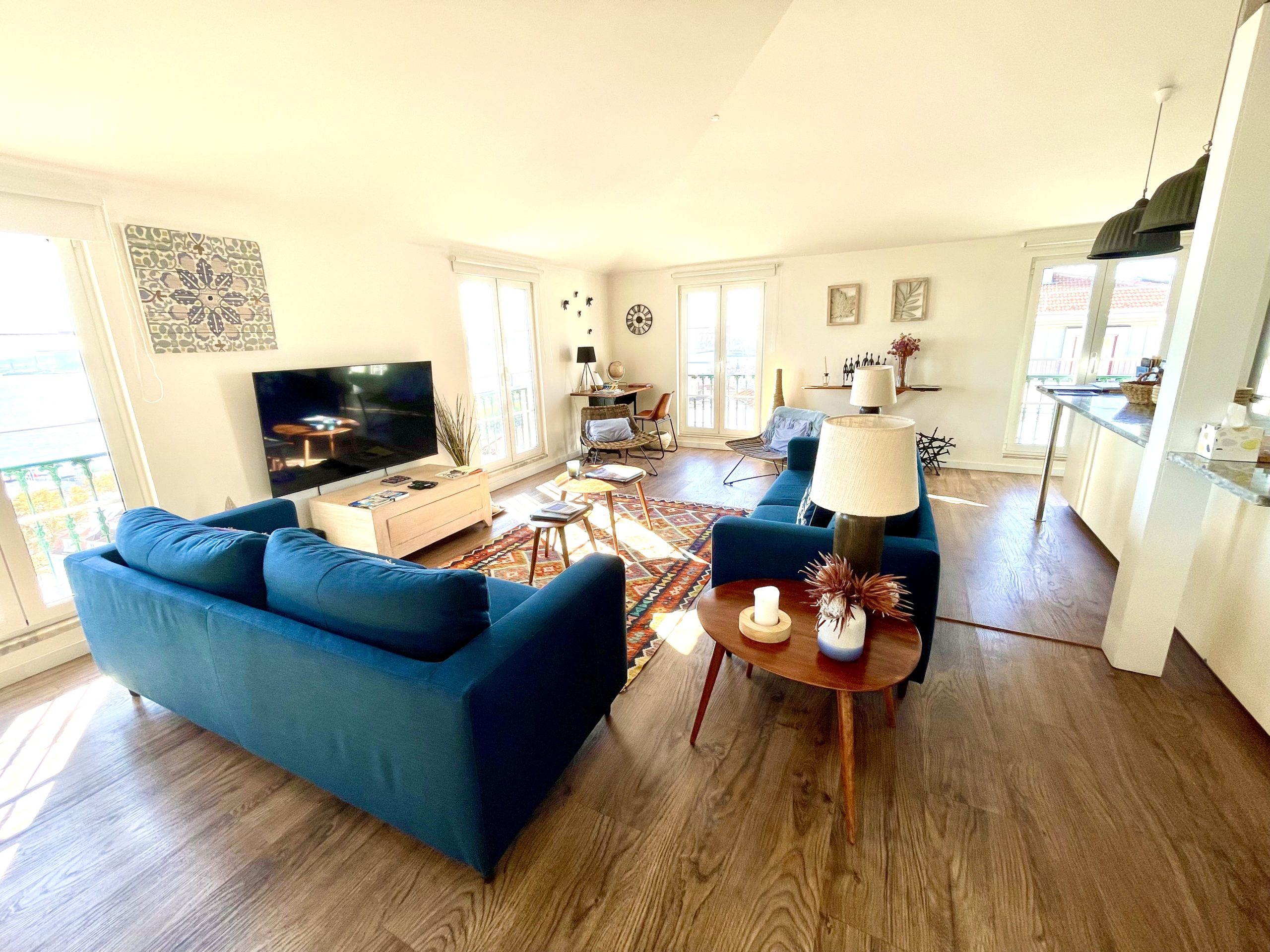 A luxury of apartment of 136 sqm with a unique river view, located at Chiado, in the heart of downtown Lisbon, with 3 rooms and 2 bathrooms. Fully equipped, very cosy and comfortable. Perfect for family stays.
Top location: central and very good transports.
Walking distance to main sights, restaurants, nightlife, supermarkets and Chiado's shops.
Enjoying the amazing view of the sunset with a bottle of wine so thoughtfully left by Mafalda on our first night in her flat was a perfect welcome. We felt equally welcomed and at home throughout our stay, especially with a kitchen so well stocked it inspired us to cook! We look forward to another visit already!
When you decide to celebrate a round birthday with your beloved one better choose the place to stay very wisely... I took a risk and decided for Mafalda's apartment over 5* hotel and it was worth it! Amazing view, probably best in the entire Lisbon, very tasteful and comfortable ambient, important details like a bottle of great wine as welcome, simply everything you need in place and super friendly, helpful and responsive host - Mafalda. Since I had very sophisticated asks, I was positively surprised when Mafalda gave me many tips on excellent non-touristic restaurant with fado, easy to digest city guiding person and hints on spectacular beaches around Lisbon etc. I recommend this place to anyone looking for an extraordinary place to stay in Lisbon, expecting very high standards, and valuing experience over lowest price. In our case this was a perfect choice!
Best Airbnb I have ever been. The views are just amazing! It's totally worth it to pay what it costs. You feel at home 100%
Beautiful apartment in a great part of Lisbon. Would thoroughly recommend!
This apartment is absolutely beautiful. It's very large and the view is breathtaking. Absolutely worth every bit of time spent in the apartment - it's difficult to leave! The location is ideal, close to the market and countless restaurants. No regrets booking here.
Highly recommend! This apartment apartment itself is absolutely stunning with floor to ceiling ocean views throughout the living room. We came to Lisbon for the first time and stayed for a week. This apartment had absolutely everything we needed for a home away from home. It was also extremely central which made it easy and accessible to see the city and go out for lunch/dinner. It was easy to check in/out and Mafalda checked in with us throughout the stay to make sure we had everything we needed.
A beautiful apartment with a dreamlike view. We loved staying at Mafalda's apartment. It's unique and perfectly located. If you're visiting Lisbon for the first time, I can't recommend it enough. Mafalda is a wonderful host. She was always available when he had questions and made our stay super comfortable.
What a wonderful apartment! And talk about location! The lovely setting and location, along with Mafalda's amazing assistance, made this a stay to remember!!
Top location: central and very good transports.
Walking distance to main sights, restaurants, nightlife, supermarkets and Chiado's shops.
Very good transport links – train, tram, bus, metro (Baixa-Chiado and Cais Sodré, green and blue lines), boat and taxi.
Whilst the famous number 28 tram stops just in front of the door!
Private transfers from airport to the apartment can be booked at very good prices:
1-3: € 25 /total
4-7: € 30 /total
8 pax: € 40 /total
9 or more: on request
Lisbon airport is just 7kms distance from the apartment but usually it takes 20 minutes by car.
Taxi service from the airport should not cost more than 25€. Alternatively you can take the Metro until Baixa-Chiado station.
If you are driving, there are 2 possible parkings:
Parking Saba Praça do Município, 200 meters distance from Chiado River View Deluxe Apartment that costs € 43/24h
Parking at Largo D. Luís I (next Time Out Market), from 13€/24h
There are parking places at Rua António Maria Cardoso which are paid (Mon-Fri 09:00 – 01:00 and Sat 09:00 – 13:00, Sun and holidays free) and Rua do Ferragial (Mon-Fri 09:00 – 01:00 and Sat, Sun and holidays free)